The Games Selector
The range of entertaining and educational games helps children develop their early maths
skills. If an adult can join in and talk about the games with the child, so much the better.
Each game has suggestions for things to talk about and ideas for further activities.
The program monitors the child's game play, and awards Brain Gain for purposeful
interaction with the games. Once a child has built up enough Brain Gain, they will be
awarded a new Mission or a new Interesting Thing for their room. This will only happen
once a day, however much children play and increase their Brain Gain.
On the Selector, click on the icon of the game you want to play. Use the purple arrows to
move to a different set of games. The number shows the current set of games.
Games screens
Use the following links for details of the individual games:
The Brain Gain meter will
remain full until the new
Mission has been completed.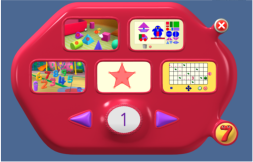 When the Brain Gain meter is halfway round an alarm sounds to
tell the agent that there is a new Interesting Thing in their room.
Clicking the meter takes them straight to their room.
When the meter is all the way round, the alarm sounds again to
tell the agent that there is a new Mission. Clicking the alarm
takes them straight to the mission screen.
The level buttons select the
difficulty of the game.